From:
Keystone Bank
-
[email protected]
Reply-to:
[email protected]
Tel. No.:
+2348080389973
KEYSTONE BANK OF NIGERIA PLC

Wuse 4, Abuja Nigeria
Tel: +2348080389973

Attn XXX

How is your health today?

We have been contacted by MR JEFF AKUFFO of UNITED BANK OF AFRICA
with one SHANSUDEEN USMAN the Formal Minister of Finance and National
Planing/ One Barr with Sanusi Lamido in which they have informed us
about your illness and instruction to act on your behalf as regards to
the claims of your fund, in this respect, we deem it wise to contact
you first to find out if you are out of the hospital and to verify if
his claims that you have authorized him to receive the fund on your
behalf is true as we don't want to conclude on hearing from him alone,
in this respect, if you are out of hospital, it is very important that
you should contact us to confirm that you have authorized him to claim
the fund on your behalf.

Below are the Bank information(s) that he has sent to us for the
processing of the payment, thus:-

BANK NAME: CIBC (CANADIAN IMPERIAL BANK CANADA)
BANK ADDRESS: 380 CLARKE ROAD, LONDON, ONTARIO, N5W 6E7 CANADA
A/C NAME: MR JEEF AKUFFO
ACCOUNT NUMBER: 5324785
TRANSIT NUMBER: 05482
BANK ID: 010
ROUTING NUMBER: CIBCCATT

I must be honest with you,I meet your file everyday but I understand
that your fund was approved long ago for payment but bad leaders and
some corrupt key officers you trusted sat on it and does not went this
transaction to go smoothly because of the Sum And some of they d
betray you)

I humbly apologies for the inconveniences and sufferings including
loss of resources and funds in pursuit of the unpaid debt might have
caused you.

You need to be Wise and careful, I will help you to get what you want
because I am a christian and I would not like to involved in anything
that will destroy my family name, I am a honest man, because i know
all it takes to establish your transfer to you.

I decided to make this direct approach to you as my new resolution in
other not to let it be as if I have anything in mind against you. I do
not know if you have asked your self why each time the release of this
fund is approved, all of a sudden, the payment will be stopped or one
problem or the other will come up if you have not asked this question
or you do not know, this is an opportunity for me to tell you.

Their game plan is only just to extort your hard Earned money. Now,
the question is how long you will continue to be Deceived? Sometimes,
they will issue you fake check, introduce you to fake Diplomatic
delivery, un-existing on-line banking and they will also fake wire
transfer of Your fund with Payment Stop Order and even send you fake
atm cards etc.

The problem you are having is that you been told the whole truth About
this transaction and it is because of this truth they decided to Be
extorting your money. The most annoying part is even fraudsters Have
really taken advantage of this opportunity to enrich them selves At
your expense. Those you feel are assisting or working for you are Your
main problems. I know the truth surrounding this payment and I am The
only person who will deliver you from this long suffering if you will
abide by my advice.


Please I beseech you to stop pursuit of shadows and being
Deceived.Feel free to contact me immediately you receive this mail so
that I can Explain to you the modus operandi guiding the release of
your Payment. Do not panic, be rest assured that this arrangement will
be Guided by your Embassy here in Nigeria.

To proof the authenticity of my good office. I hereby Attached a copy
of my International Passport/My Staff ID CARD.


Thanks and best regards.


Eze Obi.
Tel: +2348080389973

Keystone Bank Nigeria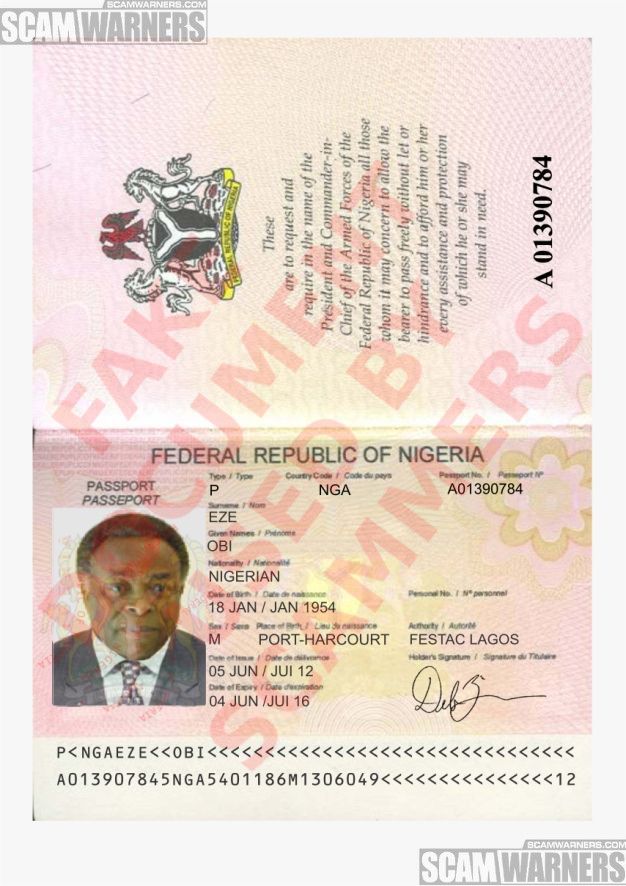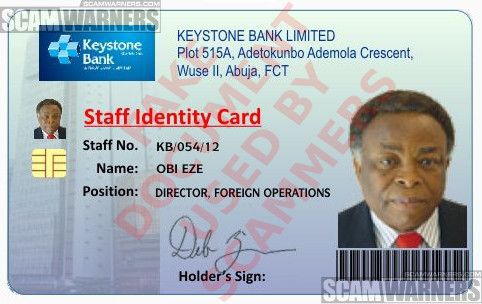 Please do not tell scammers that they are listed here - it will take them seconds to change their fake details and their new details will not be listed for any future victims to find.