NATALIA ALISULTANOVA
Liar and romance scammer.
Aka Natasha
Claims 24 or 25 years old, single, never married with no children, lives and born in Kazan, Russia.
Mail address used
natalisolarangel@rambler.ru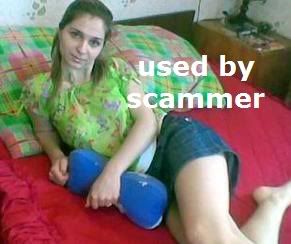 Mails;
Hello!

I am very glad, that you have become interested in me. and I shall try, that you were not disappointed with me and have learned as much as possible about me. But I as would like to learn you better. I ask you write about myself more in detail. In fact " the First Sight " allows to see only that is obvious. And when you learn people better estimations of character traits, outlooks can vary, and it is cardinal. You to me seem very beautiful person, I hope, that you also very good person and to us will be possible to learn soon each other better.

Well I shall inform in brief on myself directly. I the usual Russian girl, actually do not differ anything from others. It is probable to describe myself, to me would be easier if I did not do it for the first time. At me words and ideas because I worry a little are confused. I did not expect, that you all the same will answer me, and when I have seen your letter me as if a current have struck in heart and here now I sit at a computer and I do not know that to you to write. Excuse me if I shall do many mistakes in the letter, I not absolutely well know English so if to you something will be not clear you ask me again.

Well all right has come to continue time history about itself. As I already spoke, that my age 24 years and all these years I lived in the city of Kazan. There I also was born. It is very old and beautiful city which is in 1000 kilometers to a southwest from city of Moscow. I never was married and consequently, unfortunately, and I have what children. I would like to have the child. I would like to bring up it and to transfer all experience of a life to it. I yet do not know, how many I would like to have children, for the present in it was not defined. I do not have bad habits, I do not smoke and I do not take alcohol, unless only in small quantity on holidays. Most of all from alcoholic drinks I like red wine. From meal I prefer Russian kitchen. I have ended the Kazan State University on a speciality the teacher. Now I work as the teacher at school. On character I the cheerful person, try to enjoy each moment of my life and to overcome with a smile all difficulties of my lonely life.

I want, that you have somewhat quicker answered me. Write to me about itself, than you are engaged and that love, I all to wish to know about you. With impatience I shall wait from you the letter.

Sincerely your friend from Russia Natasha!
Hello my new friend xxxxx!

I am glad that you have not rejected my letter and is very happy that again I write to you. I with greater interest read your letters. I very much want I shall learn about you as much as possible to try to write to you all about myself as much as possible. I want that you have studied me as it is possible is better and were not mistaken in the choice. I very much would like that you were that person of whom I searched for all life. I always appreciated in men nobleness and skill to stand up for the lady. It seems to me if two persons in all are fair to each other and they have a mutual understanding that it the fine future and long love is provided. I very much wish to learn about you all in the smallest details. In how many you rise, what is the time at you leaves for work, that you like to eat, as you spend the free time.

I for 5 years as live separately from the parents. I wish to write to you as I spend the days off and a vacation. In the summer we with friends like to go to a campaign. We go to a wood and on lake. I very much like to go to sit at a fire and to listen as who to that plays on a guitar. In the winter we go to ski and on skates. I do not love winter because at us very coldly. But in the winter at us I am very beautiful also do not know with what to compare this beauty. As on days off I with the girlfriend go to gymnastics to support itself in the sports form. In the childhood my parents have written down me in ballet where I was engaged about 9 years. Since then I try to go in for sports at leisure. In the summer I like to go for a drive on a bicycle and on roller skates.

I hope to you boring my letter you will not seem and will write further to me. I hope, that I write clearly enough and much about myself. I shall try to answer all your questions. If I shall not answer your question, mean I could not to understand it, do not take offence at me and write it once again. I think, that you understand, that the overall objective in my life is to find that only thing, my second part me with which I can go through all difficulties of a life. Together to meet pleasure, occurrence of children, to bring up them, to surround with care, to present them the happy childhood, I so to dream of it!!! I think, that you understand me and your vital purposes are similar to mine, I in a shower hope, that sometime our hearts will meet.

On it I wish to finish the letter and with greater impatience I shall expect your answer.
Your letters kindle an ice in me and kindle a fire in my heart.
Your friend from Russia Natasha
Greetings Dear xxxxx!!!

What weather in you? In us temperature today has lowered up to -3 degrees! It is a little sad! I to want it think, that - it is a lot of women who would like to be with you. And I am happy that I have an opportunity to correspond to you. I was not married and I have no children, but I have dream to find love of the person. And I shall give this person all my love and tenderness. Thus I wish to have the whole family, my husband, I can trust all and it also can trust me. Very important to have the person in to which I can trust, you agree with me? I wish to live with a favorite the person who will be cares and to love me. I do not know, how can be in the future, but possibly I would like visiting you and possible, that I shall arrive to you once, but first of all we should learn each other better.

I understand, that it should be really interesting to you why I have chosen you from thousand structures. You the unusual most dear person and I hope, what it does not confuse you? It is very important for me, that you understand, that to female heart to not explain why I have chosen you.... I hope, that you understand sense of my words..... possibly, I am the happiest woman... I wish to tell, that you similar to me. I feel very much weariness here from a daily life, The life in Russia is very difficult, and I am sometimes very tired from it. In the advanced countries any worker can go to have rest in holiday to receive force for the further work, but in us is small the income therefore it is inaccessible to us. It is very pleasant to know, which for many kilometers you have the person who estimates, understand you. You agree with my idea? to the biggest regret, I cannot write to you every day because it is necessary work and I urgently get tired.

In general I love my work, I see and I communicate with many Interesting people there. But it is firm to work, because I have to remain there up to late and walk from one place up to another. But this work allows me to have an independent life and to make a few money for mine residing. I do not wish to complain, better to work in such place than have no any work in general. Unfortunately has come to finish time it the letter, my time have been finished. Please tell to me more about your life.

I wait your letter with impatience!!! Yours faithfully, yours Natasha
Hello my dear.

I very glad to hear! I did not understand earlier that this such - to receive letters from the person whom you appreciate and respect simply for that he is, though this person and I have never seen. But thanks that you write to me!!! I am afraid to give my love and receive instead of it roughness. If you have disagreements with your woman, can you apply roughness? I do not want that this letter contain only the sad side, so despite of sad instants, it is necessary to continue to live and be a pleased life! I love all seasons. I love autumn. Yellow leaves, gold trees. It's so fine to walk along the park and listen the rustle of the leaves under feet and to feel a smell of arrival of winter in the air. And clouds floating along the blue sky and birds flying in the warm grounds. The rain knocks on windows and on roofs. It is fine!!! In such weather it would be pleasant to appear in a small room with a warm fireplace.Weak light and slow music... It would be paradise!!!

What do you think of it Honey? What can be finer than romantic evening in rainy day? I love all the seasons. Like all people, I wait summer in winter and in summer I wait for approach of winter. But all the same Russian winter is delightful. All world around white. White flakes of snow are slowly turned and fall on the ground. And first frost and first ice under our feet.... and it is pleasant and at the same time easy to break this thin first ice!!! It will cheerfully burst under the feet and the first small crack is formed under a heel... and then a web of cracks will spread over all surface of ice.

Oh, I'm a romantic nature!!! Simply I have remembered my parents and the day they have got acquainted. As they have told me it was in fine winter evening. My mum together with her girlfriends went to skate and so it has turned out that my future father went for a drive on the same skating rink. Suddenly my mother fell on the ice and broke her arm. And my daddy was near by her and as the true gentleman he helped her to stand and then carried out her up to her house. Nobody could think that they would fall in love with each other at first sight. And after a while my father has proposed my mum. In one and a half year I was born!!! I love my family very much. I had always good attitudes with my parents. But there were situations when they cried at me but it was rare. Once when I was 5 years I climbed on the TV-set and fell it down. Parents were in the kitchen, they were cooking as that day we waited for visitors. They heard the noise and run to the room and they saw me I laid on a floor and cried. I broke my leg. I remember my mother's eyes very well and the moment when she calmed me before arrival of doctors. Everyone was frightened very much. But I recovered very soon, but we had not had the TV-set for a year after it. I very love my parents. I hope you could imagine my family.

Do you know how your parents have got relations??? What attitudes do you have with them now??? I hope to receive your letter very soon!!!
Sincerely, Natasha.
My dear xxxxx!

I am very glad recieve letters from you. I know feeling about which to you I speak. Because I have felt it. But it was necessary to me be very hurt when I have found out, that my feelings have no reciprocity! It is very hurt for realising. It is hurt to understand that the person to whom you are ready to give the life does not appreciate it and only plays with you! Then it was very hurt me. Since has flowed away a lot of water and anything back you will not return now. But I do not regret about it. In fact if not it I would not meet you my dear. Correctly speak, that nobody knows the destiny! I am grateful to destiny, that I have met you. With you I have again felt taste by a life. You have allowed my heart to beat with new force. Due to you I have again grown fond and I have grown fond of you Honey!

You in the right to not trust me, but I can make nothing with the feelings to you. I only hope, that you will answer me with reciprocity. Will not throw me, will not be frightened! I know as men react to words about love. Many do not trust these words and think, that them want to deceive, achieving from them an arrangement. Many after these words use women, as a thing! I am sure you not such person. In fact it is known, that at the in love person the reason to be in a fog. He cannot think as before. All opens for him on the other hand, not known to him. And I should look at all in another way. Dear I know, that men all over the world are afraid to be the deceived women who hunt for their money. I heard many sad histories about these men. It was always a pity to me of men deceived same. After all the see histories everyone the man begins to concern with mistrust to words of love. I understand you and I do not wait from you for full trust. I only know, that in due course you will understand, that I not the hunter behind money. I only the loving woman! The woman for whom caress and love is necessary. You can give me it. But for this purpose you need to be believed, that I do not want you to deceive. I fairly admit to you, that for will be a shame if I shall lead myself as hunters behind money do.

My family always and at all times was glorified by the honesty and desire to help kind people. I cannot soil a name of my family. Me have brought up not as the thief, and as the worthy woman! Sincerely I hope, that you will understand it soon. I ask you do not allow me to be silent about my love to you. It is hurt.I would like to share with you the feelings, ideas and desires. It was pleasant for me to write to you this letter. I hope, that it will be pleasant for you to read it. It is time to me to go. I shall wait for your fast reply.

With love your Natasha.

PS: You know in a life it is necessary to try, instead of to wait when destiny will solve all for you. Women are different. But I was brought up by my parents on old customs. I shall be true to the husband and never I shall begin to abuse or deride him. My family will be pleased lives. I shall make all for this purpose. At us the head of the family is the man! My stay to you depends on our consent. My favourite colour red. In the evenings I help family, go in for sports. I run. I like to walk in park. I love salads. You love salads? I well do it. The most pleasant holiday for me is my birthday. At me good health I carry clothes which is pleasant for a body and does not look defiantly. I dream of the good family, the loving husband and children. I love classical music, pleasant for my hearing. To me to like to look films about love and honour. I have opportunity to lose Cd. To not like me very fat food. To not like music at which there is no sense and not clear, wild. I love convenient clothes. In the house to me to like when all near at hand. Simply and beautifully. To like me colour of wood, it is very beautiful. I am glad lives. My life has changed, when in her you have appeared. I shall help you again grow! You and only you are necessary for me. At me any relations with other men. You mine the man! I can not without dialogue with you.